FieldPower: the revolutionary training device
No matter how athletic you are, the human body has its limitations . Enter the FieldPower. A revolutionary training device that will push your boundaries. Whether you're a professional athlete training for that important game or a physiotherapist looking to boost your rehabilitation program, the FieldPower will change the way you train, forever .
The limit does not exist
More power, more explosivity, more stability. FieldPower offers an ever-present force during any sport specific action . Improve agility, stability, acceleration, vertical leap and more with an almost constant resistance. The FieldPower enables any type of movement using resistance from any direction, from any part of the body . The possibilities are endless.
Unique features to achieve unrivaled training effects
Easy to transport (7 or 11 kg)
Easy to connect to any pole using two straps
Free 360 degrees rotation when placed on the foot
Free movement with two wheels under the foot
Free force direction by connecting the four blocks to any fixation point
3D-force direction
This is what the pro's say
"FieldPower offers thousands of possibilities and is very easy to use . It's a must have for all physiotherapists, coaches, clubs and professional athletes!"
– Sam Verlegers, physiotherapist
"In the past you could get fit by playing tennis, today you need to be fit in order to play tennis. FieldPower is the ultimate tool to play the modern game of tennis!"
– Carl Maes – manager Kim Clijsters Academy & former trainer of Kim Clijsters
The FieldPower wasn't designed to suffice the needs of trainers and physiotherapists; it was designed to exceed the expectations of everyone in the field. Learn more about the possibilities for your expertise.
Athletes, trainers, physiotherapists: FieldPower is for everyone
The FieldPower is designed as a universal device for any type of training. Professional athletes from all over the world have completely integrated the device in their training routines. The eccentric resistance at any velocity offers new training options to improve force, stability and balance after an injury or during post-op rehabilitation. At lower movement velocity, the FieldPower is a safe alternative to weight training. There are no peak resistance forces. Therefore it can be used by people of all ages at all levels.
To show you what FieldPower training can do for you in your area of sport we made videos of athletes using the FieldPower while doing what they do best!
A UNIQUE TRAINING DEVICE
FieldPower offers a revolutionary way of training without limitations.
The FieldPower delivers a unique almost constant resistance during both eccentric and concentric movements at low and high velocities. With resistance at any direction, it is the perfect device for resistance and assistance training.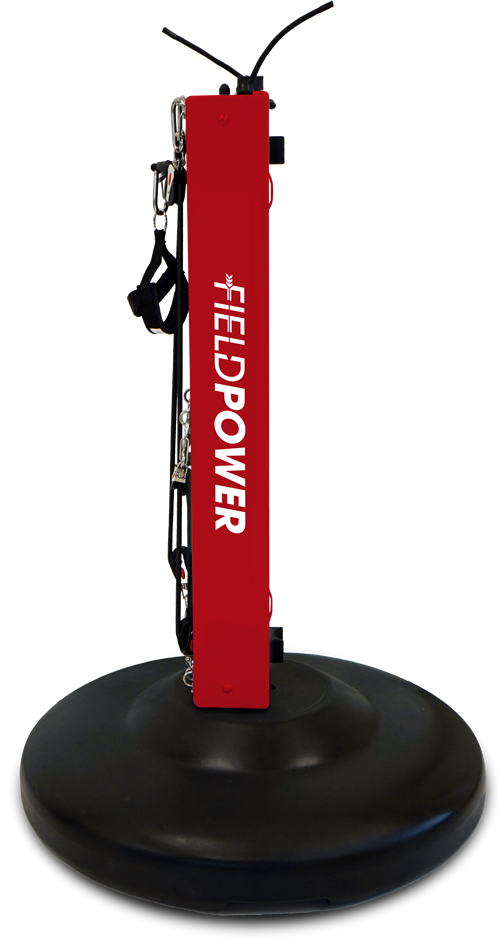 SPECS & INFO
The maximum reach of the FieldPower Multi is 11 meters. The FieldPower XL has a maximum reach of 21 meters.
The weight (7 kilos or 11 kilos) makes the FieldPower easy to transport.
It can be connected to any pole, fence, or other fixated point using two easy connectable straps.
When positioned on the special foot, the FieldPower rotates freely around its axle, offering 360 degrees movement. The foot can be moved using 2 wheels.
Revolutionary design: our story
The FieldPower was designed by Martin Huizing: an exercise physiologist and biomechanics specialist. He's a former sprinter and hurdler, currently working as a trainer in athletics, tennis and pro-football.
As a trainer Martin Huizing has always been looking for innovations that will improve training an rehabilitation effects. Devices offering an almost constant resistance already exist, and have proven to be more effective than other stimulation forms, like weight training, but he noticed the limitations of the systems currently available.
To answer the many requests by trainers and physiotherapists, he developed the FieldPower. Now it's finally possible to have resistance in any direction on any body part of choice.
CONTACT US FOR INQUIRIES
Send us an email, leave a message below or call +31 627 415 940 for further inquiries.